North American Natural Gas Fundamental Model
The North American gas system is the most complex gas network in the world, and there is no single-source of truth from which to make confident, actionable decisions to do business in the gas marketplace. Until now.
Capture the daily dynamic movement of gas prices and flow and clearly understand the relationship between the gas market's daily fluctuations and changes in electricity load and dispatch patterns.
PLEXOS is the most robust simulation platform that solves real-world problems across electric, gas, heat, and water industries—allowing you to make the investment, trading, policy, and pricing decisions to succeed across the energy generation landscape.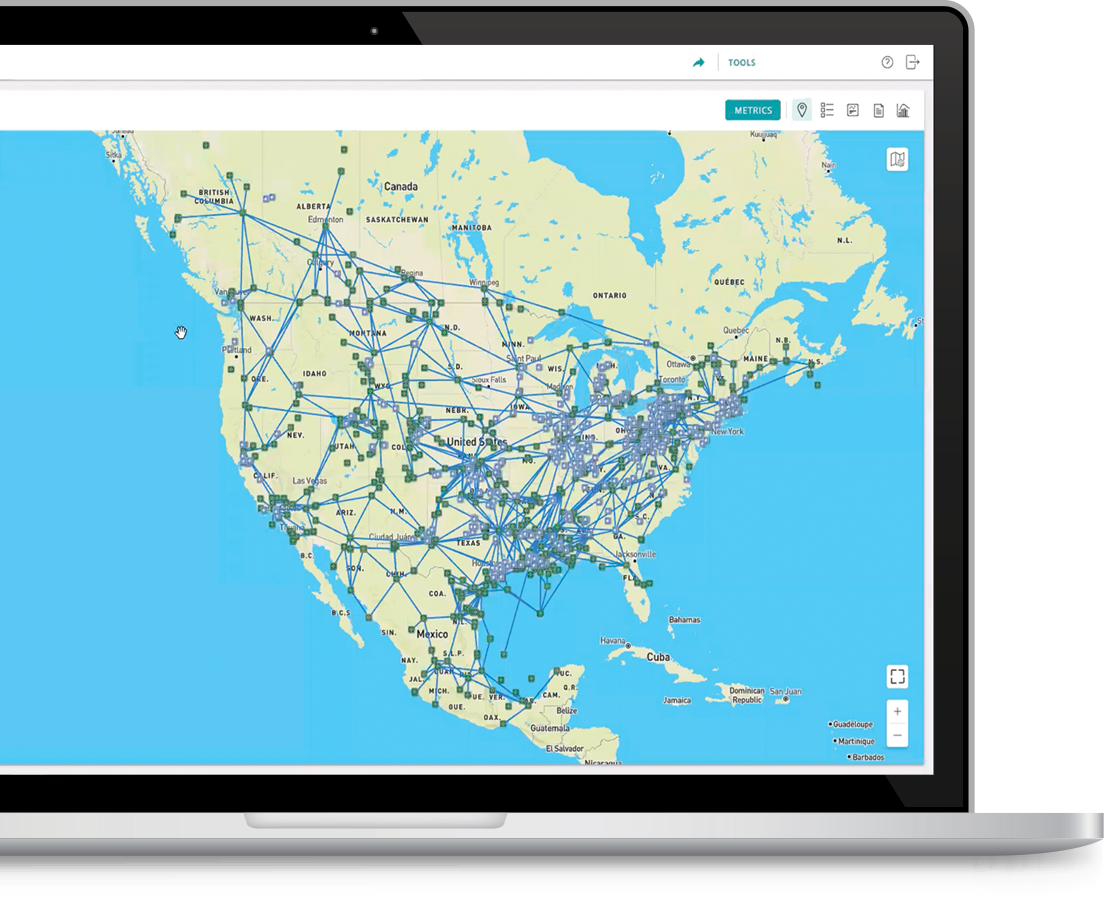 Portfolio models and technical analysis of the natural gas market often struggle to forecast the impacts of structural change because they observe the physical market through historical prices.
That's why Energy Exemplar has developed the new Gas Fundamental Market Model with full access to the chronological dispatch, physical market sensitivities and how sensitivity drivers change.
The interaction of gas network drivers such as weather and supply are critical to understanding gas pipeline congestion and market trends.
Energy Exemplar's Fundamental Gas Model gives you uncompromising abilities to analyze the natural gas market, removing blind spots created in portfolio models and enabling you to understand the entire North American Gas ecosystem in a single platform.
Answer billion-dollar questions with unprecedented clarity
The North American gas market is experiencing a watershed moment. People are faced with significant questions that demand confident and quick answers. Questions like what is the price of natural gas in the future? What happens to the gas system when another major weather event happens? What will happen if large scale carbon policy is passed?
Regional Policy Impact Analysis
PLEXOS Gas provides the entire infrastructure of the North American Gas network along with the capabilities to model carbon emissions, energy storage, renewable natural gas, and hydrogen. Gas Hub Price Forecasts
Accurately model beyond published futures and examine the impacts of extreme weather events or unplanned outages to key assets. Market uncertainties
Model and understand the impacts of transportation bottlenecks, infrastructure development, weather, market pricing and technology trends. Infrastructure Investment
Right size your infrastructure to account for the entire North American gas ecosystem including existing and future expansions for gas processing plants, pipelines, storage facilities and LNG plants.
PLEXOS models the entire topology of the North American gas market from molecule to meter
Model Components Include:
147 Price Hubs + Interconnects
379 Underground Storage Facilities
43 International Border Points
18 LNG Terminals (export and import)
172 Interstate/intrastate pipelines including 1600 gathering, interstate and intrastate pipe segments
Reporting available by sector, census region, census divisions, state/province or country
Simulate any market possibility in real time
Simulate the interplay of gas supplies, pipeline flows, storage inventory, and pricing by modeling the primary characteristics of the natural gas industry by easily modifying assumptions from weather to pipeline maintenance and availability across North America.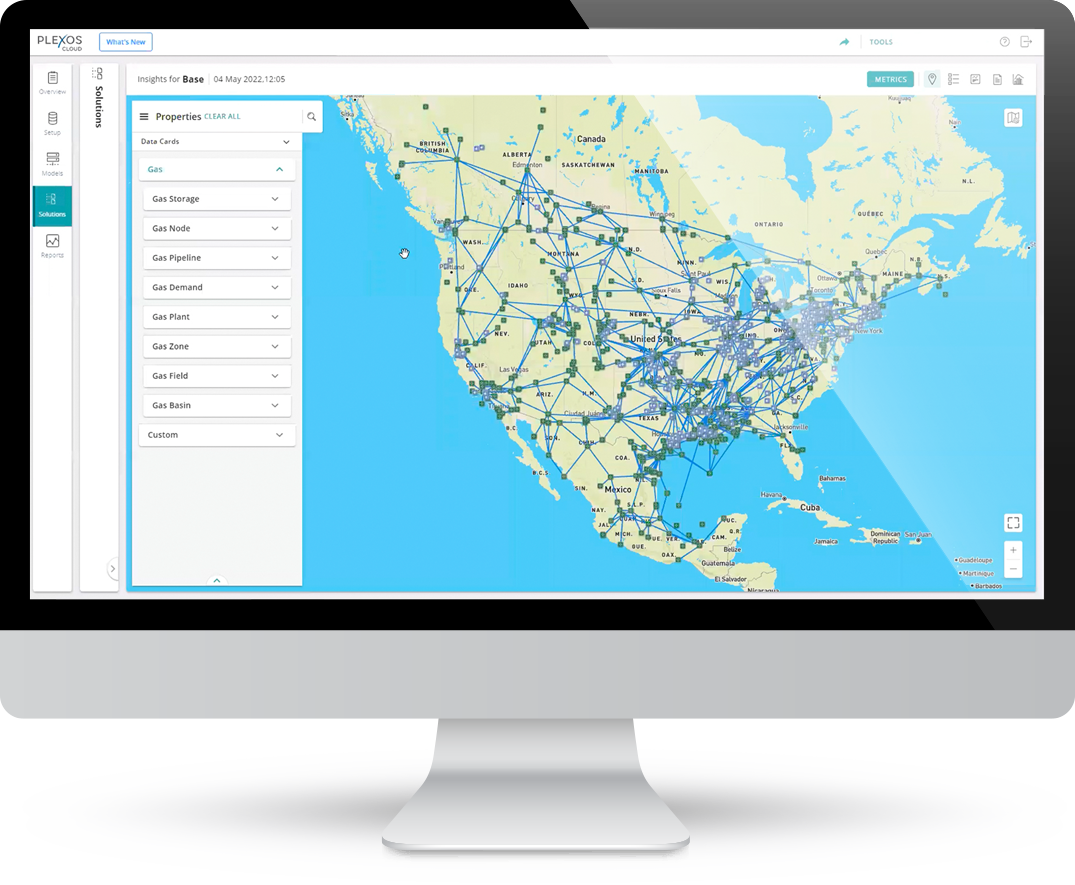 Study the impacts of new pipeline construction or shutdowns across all of North America with 172 interstate/intrastate pipelines including 1600 gathering, interstate and intrastate pipe segments.
Zoom into the map, where you can analyze individual nodes such as the Chicago city gate to analyze price changes overtime.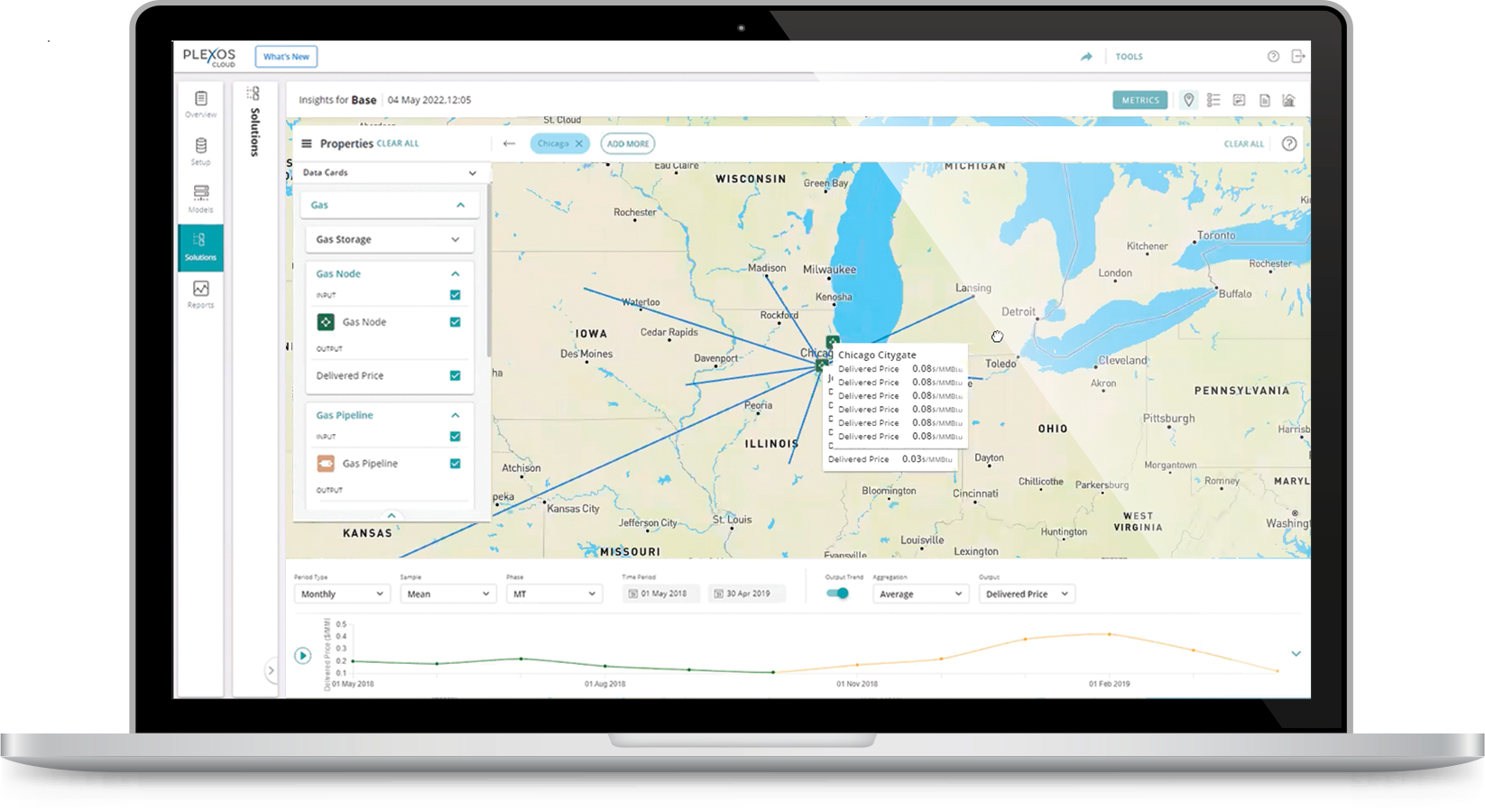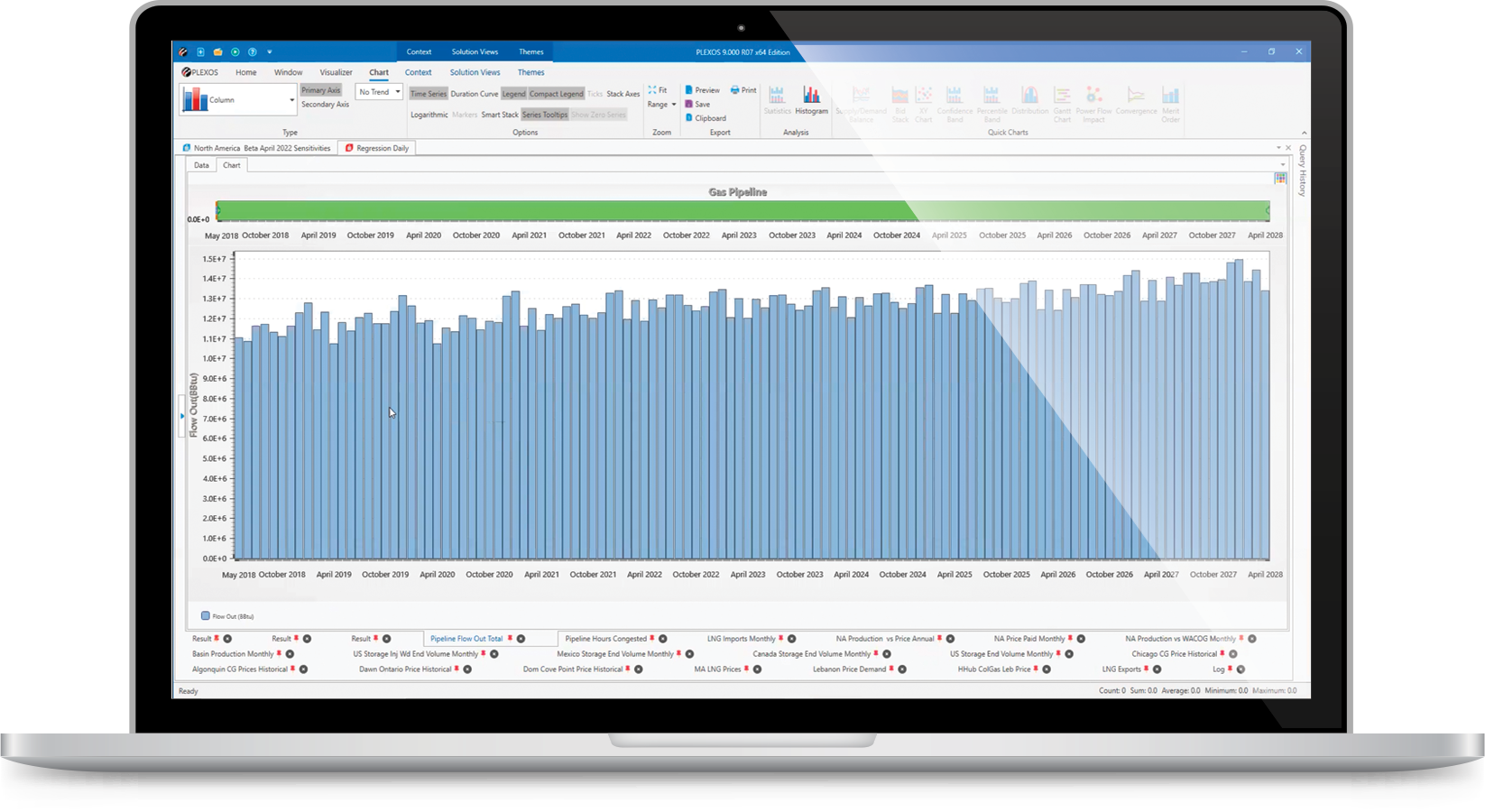 Analyze pipeline flow across the entire network.
Analyze congestion's impact on pricing across the entire network or a specific pipeline.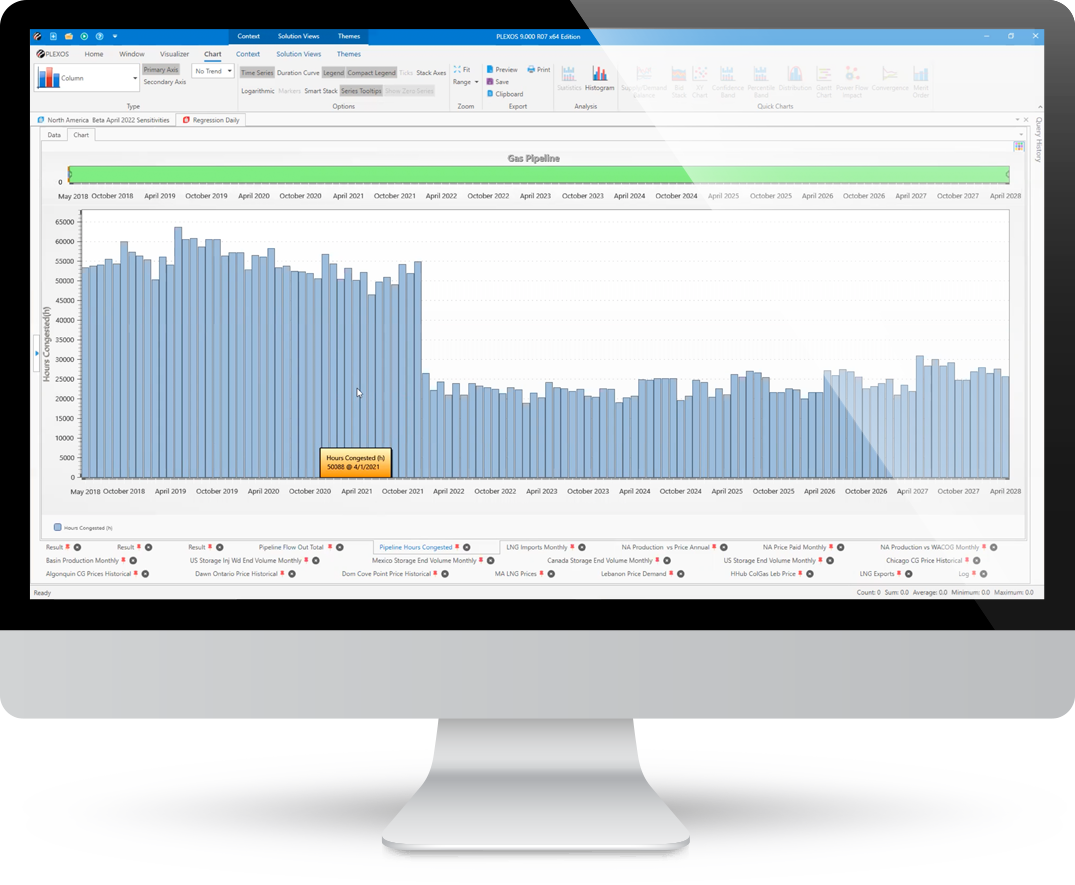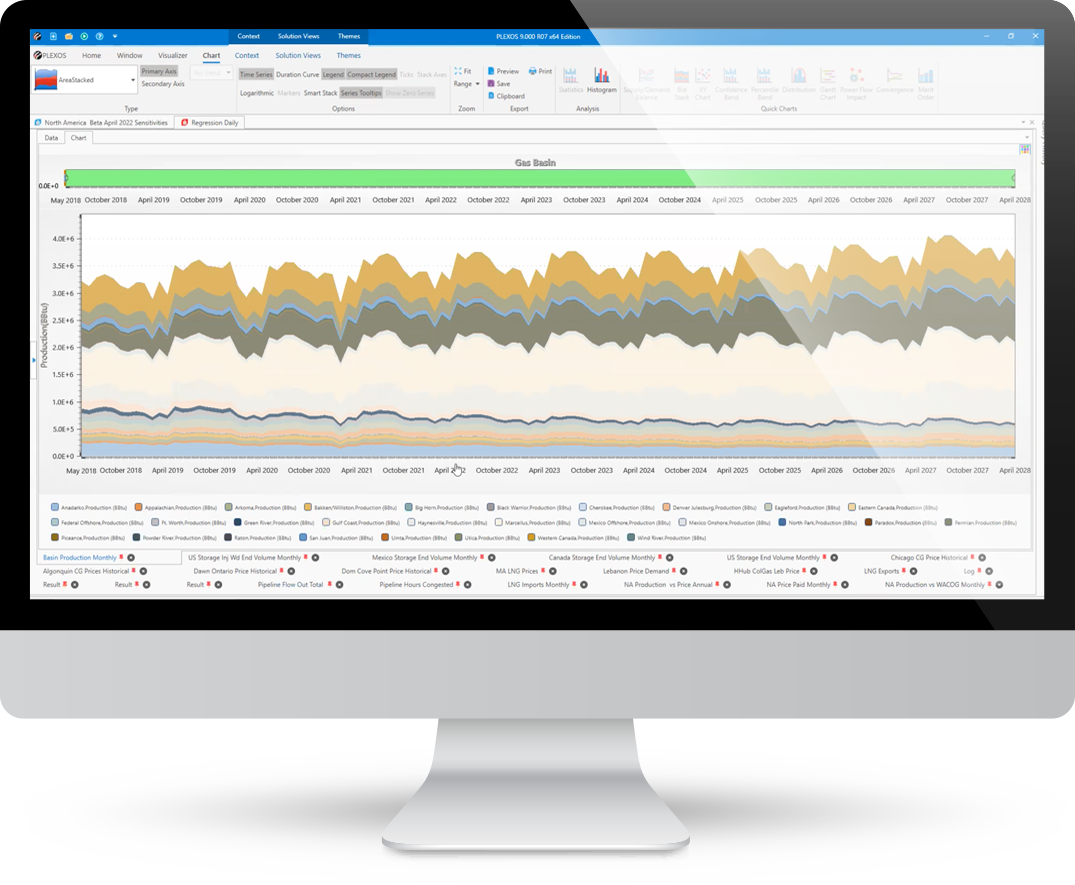 Natural gas production from every basin in North America
Gas storage and gas price arbitrage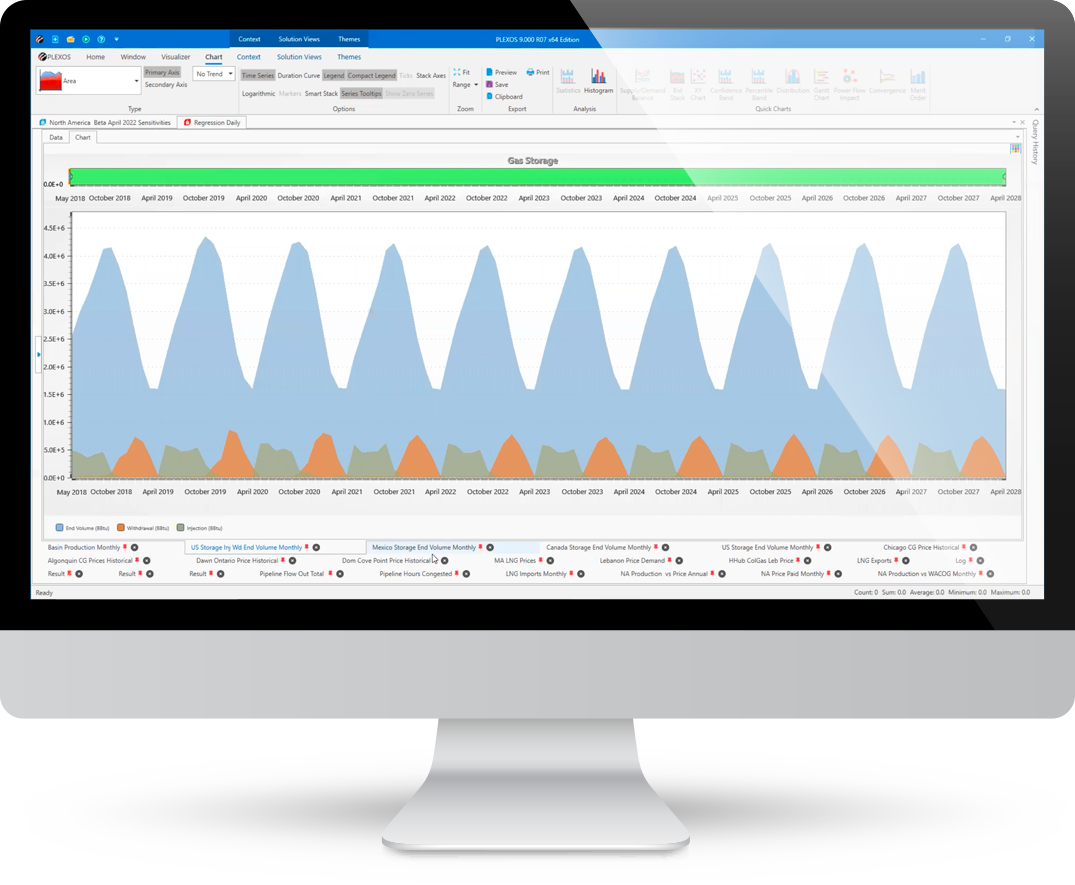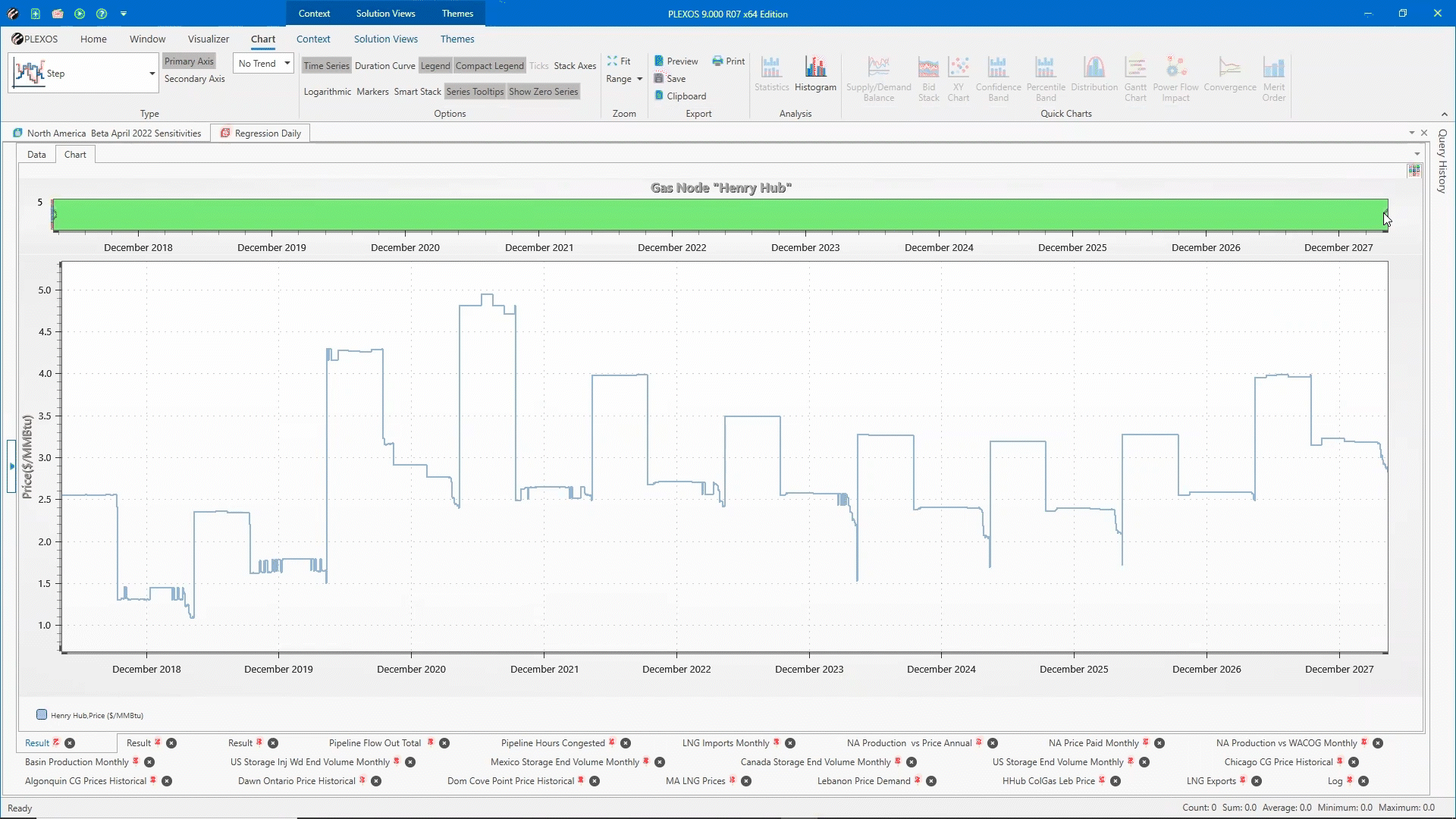 Analyze inter-hub pricing and future forecasting by zooming into detailed pricing at the hub level, with daily-level granularity.
Ready to take the next step in energy market analysis?
Model the entire North American gas market ecosystem using a single platform with PLEXOS.
Talk to Sales