PLEXOS has evolved – It's not a Tool, it's a Platform
The launch of PLEXOS 10 marks the beginning of an era. PLEXOS 10 introduces new products, features, enhancements, and innovations that bring PLEXOS as you know it, to a new level. PLEXOS has evolved - it's no longer just an energy modeling tool – it's a platform - spanning sectors, industries, and organizational levels. The PLEXOS Platform delivers accelerated outcomes - empowering analysts with quicker results to more complex problems, alongside the solutions they need to serve stakeholders and decision makers.
PLEXOS 10 offers insights for everyone. The PLEXOS 10 platform seamlessly integrates our widely used PLEXOS Desktop software with PLEXOS Cloud to empower analysts, their internal collaborators and executive stakeholders. In the PLEXOS Platform, simulation modelers can easily share insights with their peers and leadership across the organization.
Key Innovations in the PLEXOS Platform
PLEXOS Cloud Simulate

– This usage-based, scalable cloud simulation offers nearly unlimited computing power for complex analyses.

PLEXOS Cloud Analytics

– Our browser-based user experience

delivers flexible visi

bility into PLEXOS results including our

Map, Grid, Solution Reports and BI Reports.

Simulation Monitoring Dashboard

– Analysts can

view preliminary results and simulation performance in real

-

time as the simulation progresses.

Reviewer and Executive Licenses

– Collaborators and stakeholders benefit from browser-based access to PLEXOS results

,

ranging from full read-only access to Executive View (see below).

Executive View

– Allows for the creation and publication of BI dashboards, enabling decision-makers to drill into detailed analysis coming from PLEXOS without the delay of manually composing results.

PLEXOS Cloud Marketplace

– Provides a selection of Playbooks and Report Templates from our library for use in PLEXOS Cloud.

Cloud-based Licensing

– Facilitates the internal administration of licensing for PLEXOS Desktop and Cloud services, enhancing optimal team agility.

PLEXOS Excel Add-in

– Offers customization for input data editing experience directly in Microsoft Excel.

Cloud Integration for PLEXOS Desktop

– Seamlessly combine PLEXOS Desktop and PLEXOS Cloud for maximum modeling power.
PLEXOS Insights Joins the PLEXOS Platform
The PLEXOS 10 Platform now features our latest innovation: PLEXOS Insights. PLEXOS Insights introduces a new experience in which you leave the modeling to Energy Exemplar and focus primarily on consuming simulation results. Our early offerings include PLEXOS Insights for Traders, focusing on multi-scenario analytics for markets in Great Britain (GB) and Germany (DE). Simulation results are updated with great frequency: for GB and DE, the cadence is daily. We will continue to expand this offering into new markets and use cases to deliver insights for everyone.
Key Innovations in PLEXOS 10 Desktop
If you have experienced PLEXOS in the past, you should definitely learn about what's new in PLEXOS 10 Desktop. Today, we're excited to announce some innovative new features and capabilities of the core PLEXOS engine and traditional user interface.
1. The Welcome Page -
A new and enhanced user experience to simplify taking those first steps on a new project in PLEXOS. The new Welcome Page also provides web-based content to help you find relevant resources quickly. Release notifications will appear in PLEXOS Desktop in future. The new Welcome Page also ties into PLEXOS Cloud making the integration experience increasingly seamless.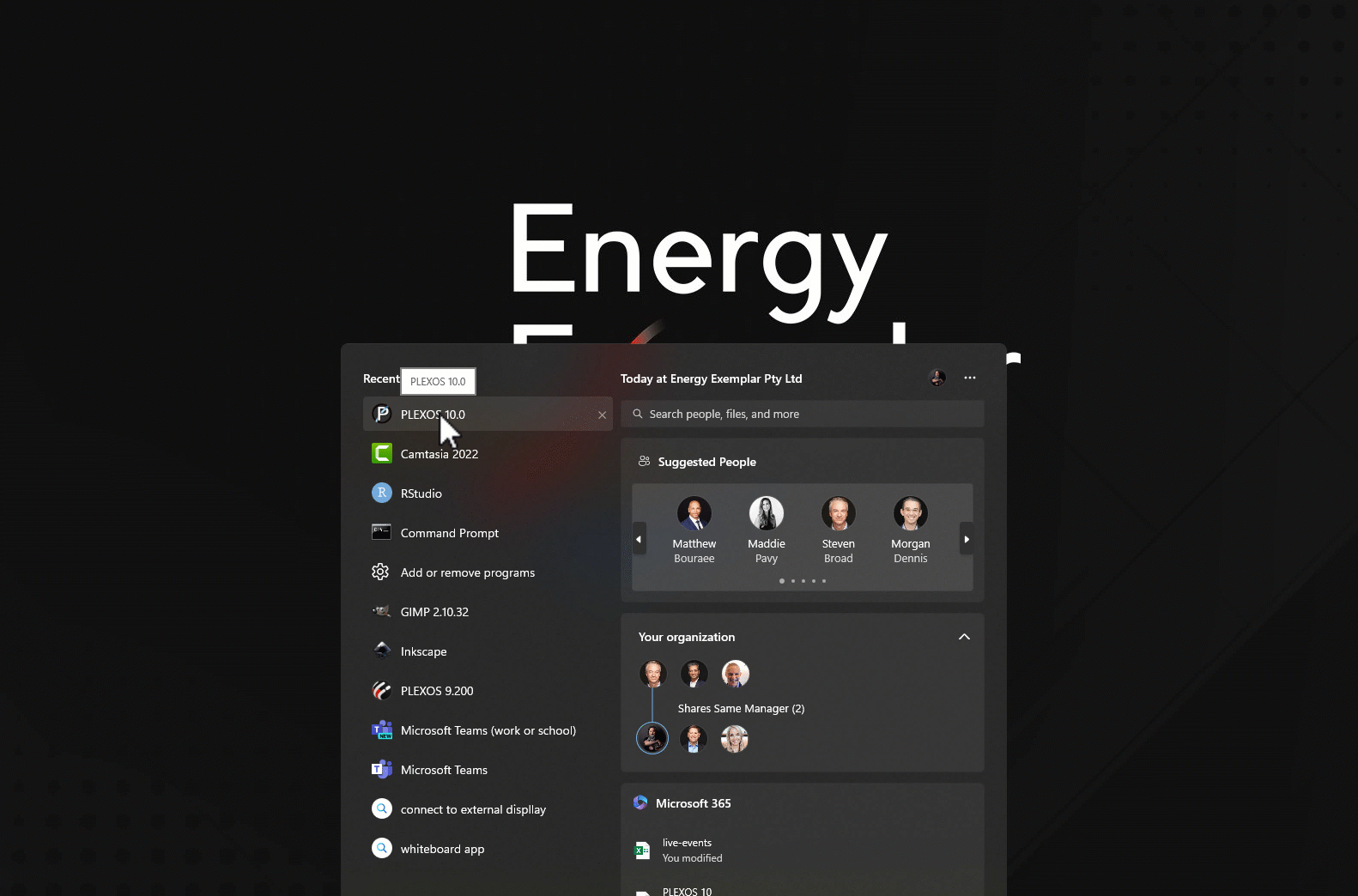 2. PLEXOS Hydrogen -
PLEXOS 10 introduces enhanced hydrogen modeling capabilities, focusing on market-level analysis with the integration of Power2X and the Gas Module. These updates enable detailed notional price forecasts, resource adequacy analysis, and asset valuation. The new PLEXOS Hydrogen dataset now includes European data, adding to the platform's robustness.

This update includes refined modeling features for the hydrogen value chain, such as electrolyzer efficiency, ramp constraints, and startup/shutdown costs. Additionally, it features comprehensive tracking and accounting for green credit management. A key aspect is the focus on hydrogen investments, with PLEXOS capital cost recovery aiding in investment decision-making. Details about these hydrogen modeling features in PLEXOS 10 will soon be available on our website. An upcoming blog post will provide further insights. Stay tuned for updates.
3. Nodal (DC-OPF) Improvements -
Continuing improvements to Kron Reduction algorithm, including AC mismatch resolution, a new commitment PTDF threshold separate from the dispatch threshold to improve dispatch results. The Kron Reduction allows users to improve performance by simulating a reduced network without compromising on power flow boundary conditions. The AC mismatch resolution feature eliminates injection mismatches in the DC-OPF caused by linearization. The Commitment PTDF Threshold ties these two together by reducing the problem size for the unit commitment problem while maintaining the quality of the DC-OPF dispatch results by specifying a lower Flow PTDF Threshold.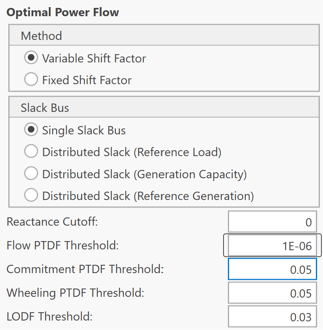 4. Contingency Screening -
DC-OPF simulations often include many N-k contingencies that slow down simulations without providing substantial constraint. The improved contingency screener helps users reduce the number of contingent and monitored elements in their simulation to the most impactful ones. Added to this, there are new post-contingent flow outputs to provide more contingency insight. Shown on the left is the new input option for screening in the Config window. See the "Contingency Screening Elements" help topic for more information. Shown on the right is an example of post-contingent flow output properties (help available under Contingency Monitored Lines/ Transformers/ Interfaces in the Contingency Output Properties topic).
5. Gas Transport -
Long haul fuel shipping is critical to meet the mid-term supply shortages in Europe, and PLEXOS 10 has added substantial capabilities - such as maintenance planning for tankers, or investment decisions on transports. With these additions, PLEXOS can now model all investment decisions from source all the way through the entire natural gas value chain.

6. Gas Portfolio Planning -
PLEXOS 10 continues to improve as the industry-leading supply and portfolio planning tool for gas utilities. PLEXOS 10 adds many modelling enhancements to improve accuracy, performance, and ease of use. With the expansion of DSM logic, customers can now more easily align demand forecasting and DSM forecasting. A key addition is the ability to model net vs. gross supply takes at receipt points providing both a more accurate answer and an easier to use product.
7. "Sol File Magic" -
We've all been there: you ran a simulation and forgot to report an output in the PLEXOS Solution File. Now you can add it and run a faster re-simulation to obtain that output! It's great for the early project stages as the analysis is developing. This feature is currently a Beta release, so please treat it as a learning opportunity. Users will need new parameters for the PLEXOS_Params.xml file as follows:
<?xml version="1.0" encoding="utf-8" standalone="yes"?>
<UndocumentedParam xmlns="http://tempuri.org/UndocumentedParam.xsd">
<ParameterName>SaveReadableSolFiles</ParameterName>
<ParameterName>ExistingSolFileLocation</ParameterName>

8. Cloud Data Format Support -
PLEXOS 10 can open your PLEXOS Cloud Parquet output data. If you are downloading these data for other purposes, you can also use this data directly in PLEXOS Desktop. (Parquet v2 output from PLEXOS Cloud is required, and users must compress the parquet output into a .zip file.)
9. Cloud Integration improvements –
Status messaging and workflow improvements make the experience increasingly smooth.
10. Facility Specialization -
The Universal Model in PLEXOS is powerful, and now increasingly easy to interpret. You can define your own Facility Classes and specialize them to your needs. For example, you can call an Electrolyzer an "Electrolyzer", and similar. For more information, see Glenn Drayton's LinkedIn post teasing this feature or check it out in the Config window of PLEXOS 10 Desktop as below.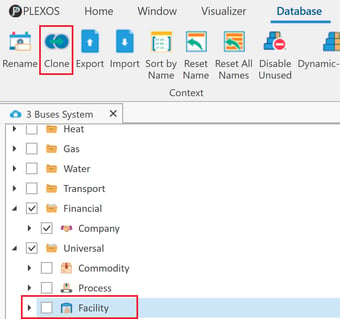 We hope you benefit from the numerous improvements we've made with PLEXOS 10! Most of these were taken directly from xChange, our customer idea platform. Our outstanding development and quality teams – who deserve lots of thanks and appreciation – are committed to taking this valuable input from our users to heart. Your input makes this new and improved version of PLEXOS great.
Energy Exemplar's commitment to innovation allows us to continue to deliver solutions that provide actionable insights across the energy value chain via cloud scalability, global simulation-ready datasets, and PLEXOS Insights – transforming PLEXOS into a new Platform.
PLEXOS doesn't just speed up; it evolves.
Ready to take the Next Step in Energy Modeling?
Our PLEXOS 10 Platform update offers advanced features and integrations to enhance efficiency and decision-making in energy analysis. PLEXOS 10 is designed for a diverse range of users - from analysts to executives, providing tools for in-depth data analysis and reporting.
The PLEXOS 10 platform is not just an upgrade, but a transformation in energy modeling technology – discover it today.
Start planning with PLEXOS today
With an energy modeling platform that's more customizable, more connected, and provides more insights than ever before. Make the switch to PLEXOS today.

Dr. Steven Broad joined Energy Exemplar in 2015. As Senior Principal Product Manager for the PLEXOS Engine and AI/ML, he builds simulation and optimization products for the Energy industry and adjacent verticals that address customer needs for market modeling that is holistic, economically fundamental, and accounts for the physical constraints of the system. Steven has helped transform energy market analysis for many businesses in the industry, leveraging his background in applied mathematics and 25 years of experience building software tools for commercial simulation applications to help them craft a vision for their transformation as well as a plan to achieve it.