No tradeoffs between quality and velocity
Gas Modeling Improvements
Understanding the gas landscape has never been more critical. We recognize that and go the extra mile with vast improvements for LNG, combined contract types; emission abatements; storage ratchet performance improvements; and so much more. For example, you can now model carbon credits directly with abatements which simplifies your models. And the storage ratchet performance improvements will make large gas market models noticeably faster with the additional detail.
Whether you're modeling for a market or portfolio, you'll see improved speed and simpler, more natural inputs across your entire experience. Get line-of-sight on what's happening not just globally, but locally – with European prices, forecasts, and impact from supply cutoffs and more. Experience how we're helping you find quality answers to difficult questions around security of supply, hydrogen economy, and sector coordination.
Feature available in PLEXOS and PLEXOS Cloud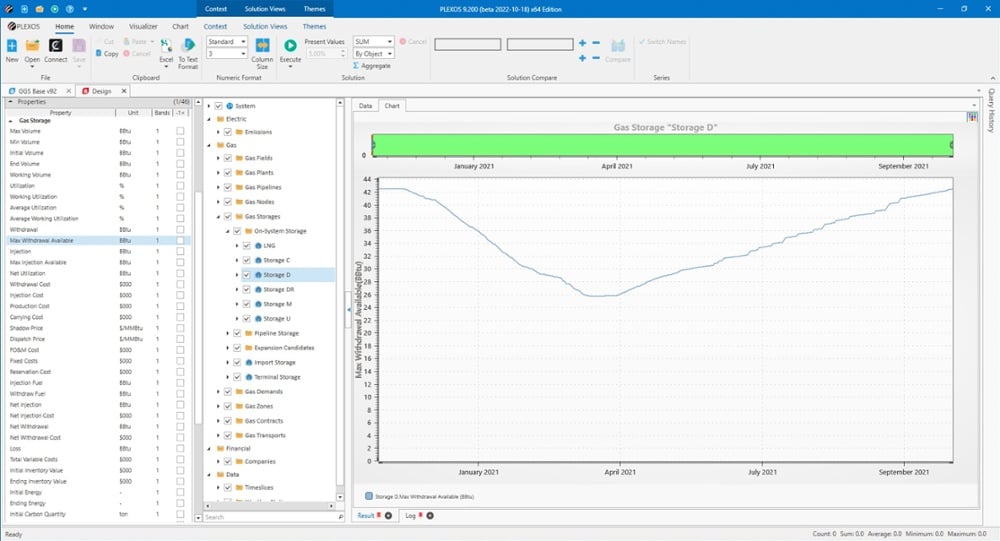 The future demands answers, today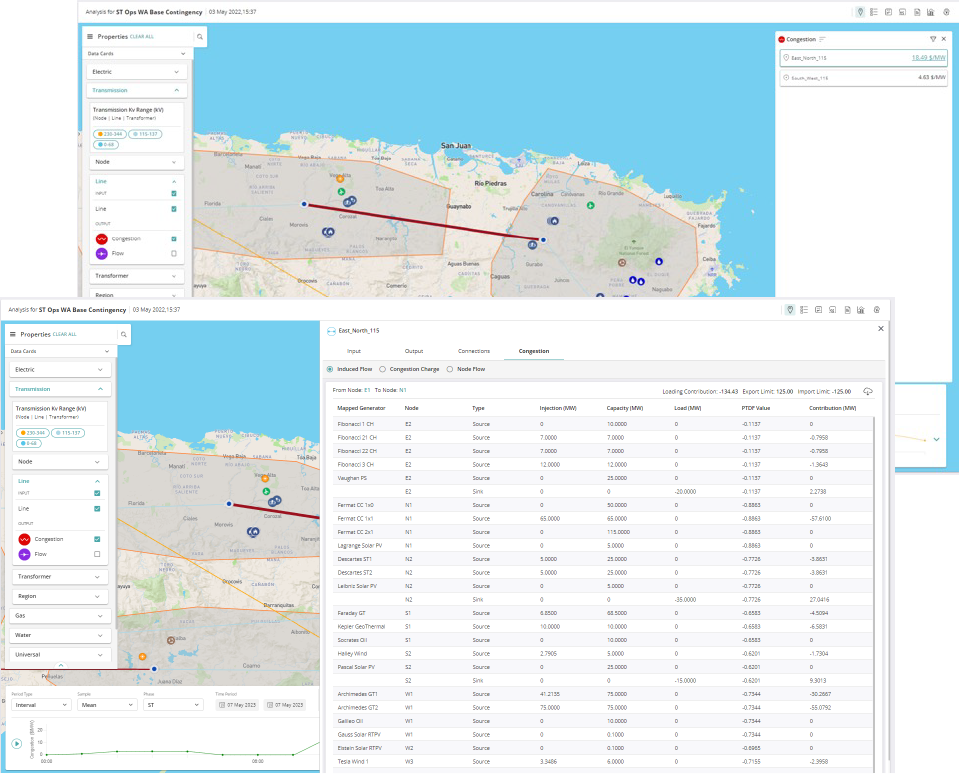 Transmission Performance Improvements
The challenges of forecasting on large transmission systems are growing with the addition of new technologies for decarbonization. You need to get ahead of the energy transition and understand how it's going to impact your transmission scenarios. We've got you covered.

PLEXOS now includes several features to speed up nodal ST, including Network Footprint Reduction; Automated PowerStation aggregation by electrical proximity; Configurable Constraint Resetting to avoid carrying constraints that do not bind forward in time; and Multi-step Parallel ST (e.g., 7x1 day). And for your big nodal ST simulations, they'll get even faster with very little change in precision. For example, automated power stations aggregation and constraint resetting together reduced a big eastern US model runtimes by ~60% in early testing.
This is great for PLEXOS nodal users – and zonal users benefit from several of these as well. With these enhancements, PLEXOS has truly become the natural choice for transmission modeling for energy transition.
Feature available in PLEXOS and PLEXOS Cloud
Simplified and seamless workflow, big-time
Cloud-Desktop Integration
We're now allowing PLEXOS desktop users powerful Cloud simulation capabilities at their fingertips. This reduces barriers to running large simulation workloads, all while using a familiar desktop interface. You'll appreciate our flexible, scalable, highly-available simulation infrastructure all without leaving the PLEXOS interface. Experience new things like uploading a study, running a model, viewing logs, downloading output and much more.

Only PLEXOS offers a seamless integration between desktop data management and cloud simulation. You'll lose nothing and gain flexible and scalable compute infrastructure, along with our intuitive and powerful PLEXOS Cloud data visualization and reporting.
Feature requires PLEXOS and PLEXOS Cloud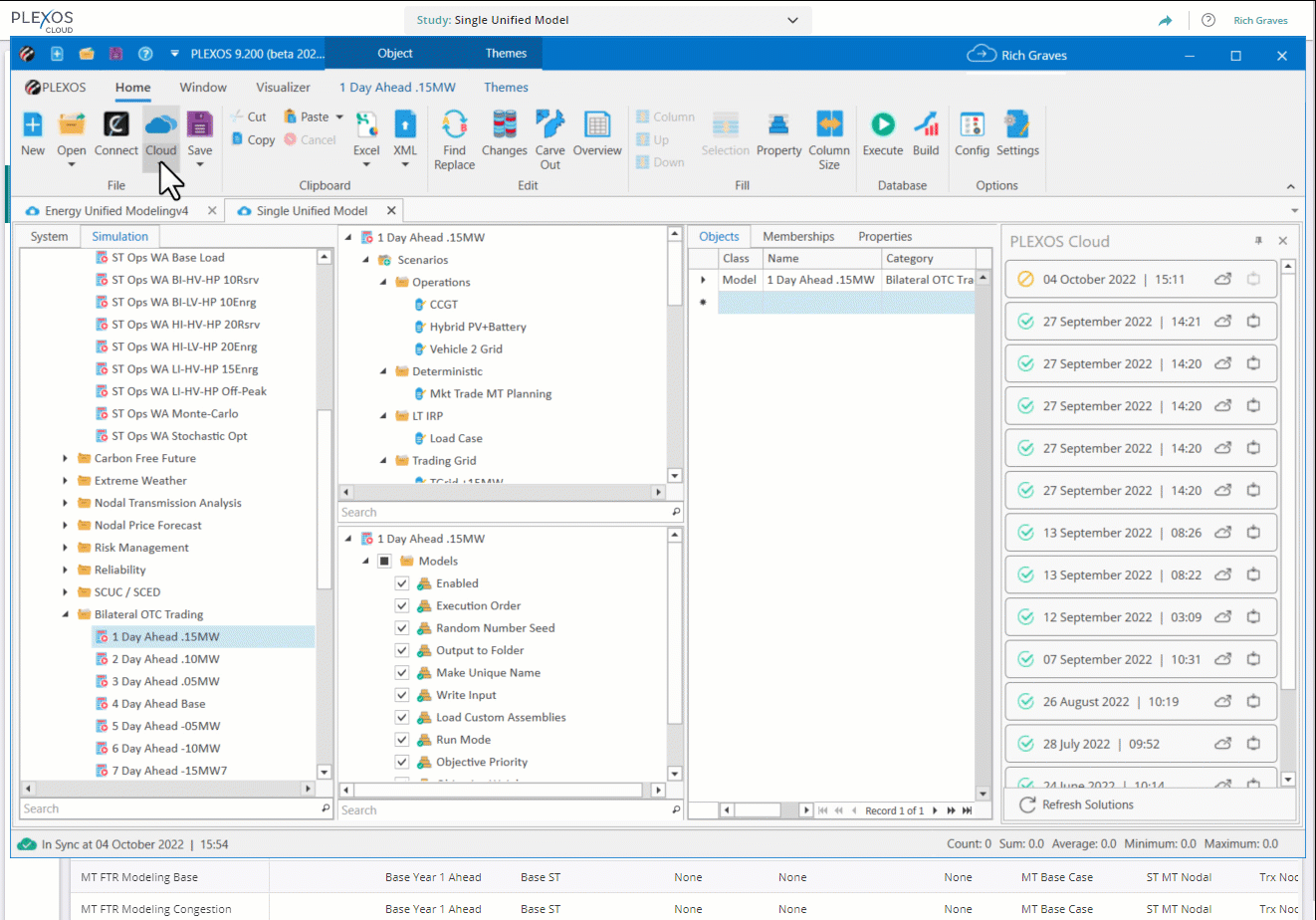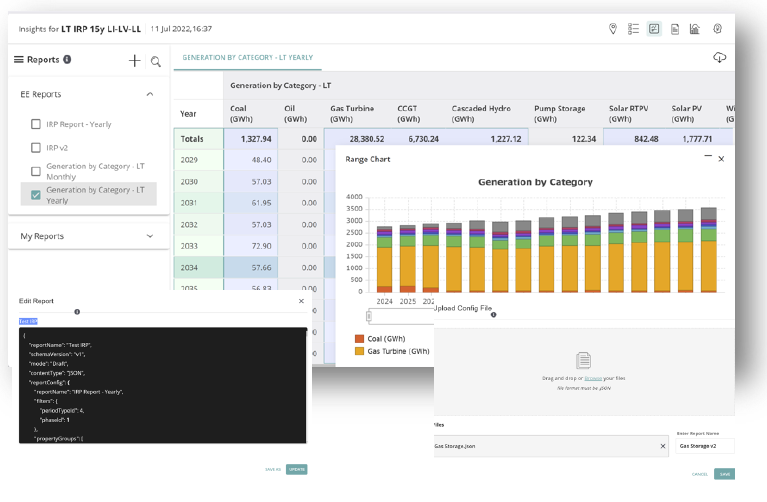 Solution Reports
Introducing configurable, reusable, and sharable reports in PLEXOS Cloud using PLEXOS output. Our rich and growing report templates library now includes ready-made templates for IRP, generation, fuel price, transmission analysis and more. You can use them out of the box or customize to your liking. We help make the complex clearer and give you reusable ways to analyze output in a simple, shareable way.
Now you can look at your output in this way every time you run a simulation. It loads fast requires no massaging of data – game changer, right? Analysts and stakeholders – get ready to share the love.
Feature requires PLEXOS Cloud
Command Line Interface (CLI)
Experience a great, simple approach to automating a workflow. With our CLI, we've made it easier to trigger actions in PLEXOS Cloud without having to use the UI or an API. You can now integrate and automate processes for calling common cloud functions like uploading data, running a simulation, downloading output, and much more.
Analysts and IT teams can easily contribute to building out ModelOps without needing advanced programming capabilities. This helps you get the job done without a need for deep training and familiarity with complex coding languages. And with our user-friendly documentation built in, this opens automation and integration to a much wider group of team members.
Feature requires PLEXOS Cloud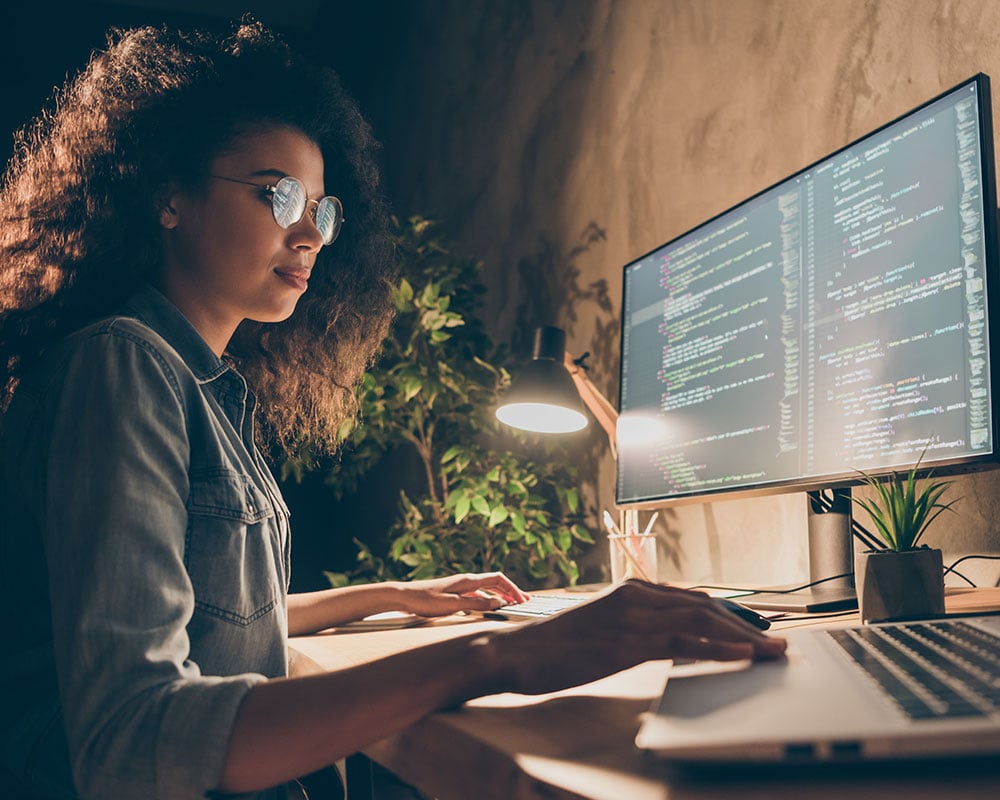 Business Intelligence for All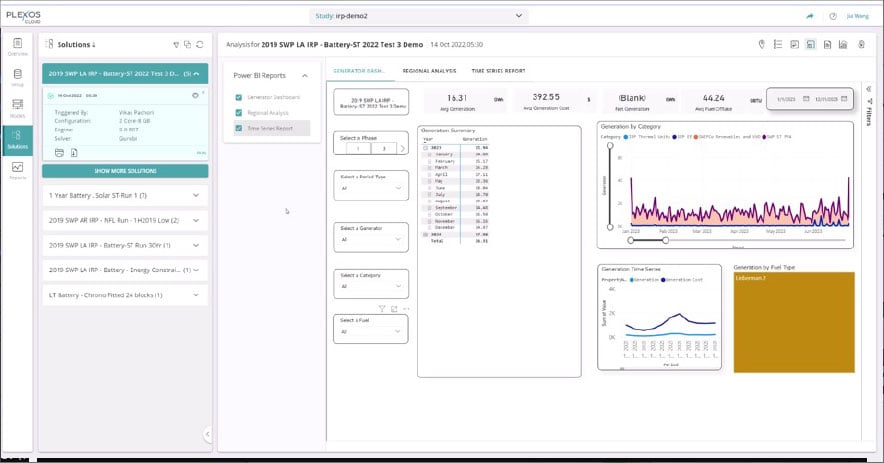 Microsoft Power BI Integration
You're asked to create compelling dashboards for communicating with leadership to drive decisions. Traditionally, that's a ton of effort. Now this can be done now with Microsoft Power BI. You can build out enriched dashboards and reports in Power BI directly against PLEXOS Cloud output. With this solution, the data is moved with the click of a button and in a format designed for building in Power BI.
Planners and decision makers at organizations can access key data directly with this option. And users that have Power BI as their reporting tool of choice – this is music to your ears. Finally, you'll see there's easy integration with the Microsoft ecosystem including Excel, Azure, Power Query, Access, and more.
*Available January 2023
Feature requires PLEXOS Cloud
Start planning with PLEXOS today
With an energy modeling platform that's more customizable, more connected, and provides more insights than ever before. Make the switch to PLEXOS today.
Feature Enhancements
Our committment to